Why use CashMyGuns.com?
Why use CashMyGuns.com?
We are Licensed to Help People Sell Firearms
We are licensed by the Bureau of Alcohol, Tobacco, Firearms, and Explosives to assist in the purchase, sale, and transfer of firearms in the United States. We follow federal regulations that deal with the legal transfer of a firearm to release the seller's liability.
We Have an A+ Reputation
We've helped thousands sell their firearms and take pride in the reputation we've built. Fairness, accuracy and sincerity is part of our mission and translates into impeccable customer service. See what our customers have to say!
We are Safe and Discreet
Selling a firearm can be a daunting task. Our process is not only professional and discreet, there are no obligations with our evaluation. Gun owners can sell from the comfort of home and avoid pressure situations at brick and mortar dealers or in private sales.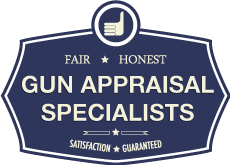 Free Professional Appraisals
We professionally appraise every firearm that comes to us. Gun appraisals follow strict guidelines based on make, model, metal finish, wood & composite finish, overall condition & functionality, rarity, and comparative sales. Whether you're an experienced gun owner or know nothing about handling firearms we will make sure to give you an honest opinion of your gun's current value and offer a price reflecting the pre-owned market.
We Promote Gun Safety and Awareness
Dunlap Gun Buyers donates 5 percent of every gun bought back to programs that promote gun safety and gun violence prevention. One of these programs is ProjectChildSafe.com, which promotes genuine firearms safety through the distribution of safety education information and free firearm safety kits to communities across the United States.
Free, No Expense to You!
The best part of using CashMyGuns.com is that it won't cost a dime! We pay all shipping and federal transfer costs. Once your firearm has been received, we send payment right away through your preferred payment method. We make it as easy as possible for gun owners to sell unwanted firearms safe, legal and hassle-free.