Why use CashMyGuns.com?
Discreet, Simple, and Safe
From the comfort of your home you can discreetly sell your unwanted firearms. We provide and pay for the shipping and transactions costs and guide you along the way to ensure the process is simple, safe and done legally. Our firearm transfer methods are approved by the ATF and major shipping carriers. We use advanced tracking numbers on all shipments and allow you to track its status during the entire process. You can feel safe knowing that your firearm will arrive at our warehouse quickly, safely and that you get paid.
Authorized Specialists
We are licensed to buy and ship firearms under our Federal Firearms License (FFL), and we follow the rules laid out by the ATF that regulates them. You can rest assured knowing that we will take due precautions with all firearm transactions and feel comfortable knowing they will be in trustworthy hands.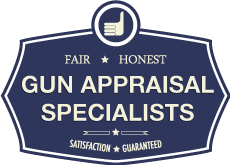 Fair and Honest Appraisal
We professionally appraise every firearm that comes to us. Gun appraisals follow strict guidelines based on: make, model, metal finish, wood & composite finish, overall condition & functionality, rarity, and comparative sales. Whether you're an experienced gun owner or know nothing about handling firearms we will make sure to give you an honest appraisal of your guns value and offer you a fair price for it.
We Give Back
CashMyGuns.com donates 5% of every gun bought back to programs that promote gun safety and prevent gun violence. One of these programs is
ProjectChildSafe.com
, which promotes genuine firearms safety through the distribution of safety education information and free firearm safety kits to communities across the United States.
Free, No Expense to You!
The best part of using CashMyGuns.com is that it won't cost you a dime! We pay for all shipping and transfer costs. Once your firearm has been received we send you a check for an agreed to value of the gun. We make it as easy as possible for you to sell your unwanted firearms at no cost. Safe, legal, hassle-free.